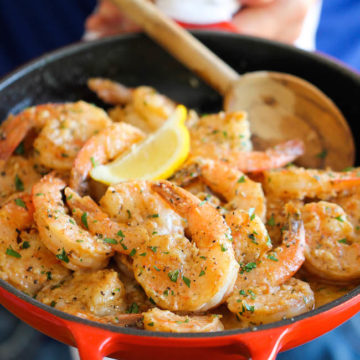 The thought of garlic, and butter and shrimp scream DELICIOUSNESS in my head.  Chances are you feel the same, or more than likely you wouldn't be reading this blog.  I have found a recipe that combines all three of these fabulous and beyond-tasty ingredients and…takes only 20-minutes (or less) to prepare.  At El Toro Gourmet Meats, we carry what we believe to be some of the finest seafood in Orange County.  And for the month of February, 2020 we are featuring our flash-frozen peeled and deveined shrimp – 16-20 count, on sale. Making it even more tempting to cook this up as soon as possible. On sale or not, we carry shrimp all-year-long.
SOME TEMPTING & TASTY SIDE-DISHES
Your favorite pasta
A light salad with a citrus-vinaigrette dressing
Broccoli and French bread to use to dip in the garlic-butter
And of course, don't forget Surf & Turf – We carry Nature's Own – hormone-free beef
ADD WINE
Pair your meal with one of our fine wines from Napa or Sonoma Valley's and you have a dish that will be a hit time after time.  We'd love to hear from you and even post some pics on our Facebook and Instagram pages.
Bon Appetit from Bob, Bobby and the Team @ El Toro Gourmet Meats
RECIPE
Yield: 4-Servings
Prep Time: 10-Minutes
Cook Time: 10-Minutes
Total Time: 20-Minutes
INGREDIENTS:
8 tablespoons (1 stick) unsalted butter, divided
1 1/2 pounds medium shrimp, peeled and deveined
Kosher salt and freshly ground black pepper, to taste
5 cloves garlic, minced
1/4 cup chicken stock
Juice of 1 lemon, or more, to taste
2 tablespoons chopped fresh parsley leaves
DIRECTIONS:
Melt 2 tablespoons butter in a large skillet over medium high heat. Add shrimp, salt and pepper, to taste. Cook, stirring occasionally, until pink, about 2-3 minutes; set aside.
Add garlic to the skillet, and cook, stirring frequently, until fragrant, about 1 minute. Stir in chicken stock and lemon juice. Bring to a boil; reduce heat and simmer
until reduced by half, about 1-2 minutes. Stir in remaining 6 tablespoons butter, 1 tablespoon at a time, until melted and smooth.
Stir in shrimp and gently toss to combine.
Serve immediately, garnished with parsley leaves, if desired.
***Recipe from damndelicious.net