DELICIOUS 3-MEAT MEATBALLS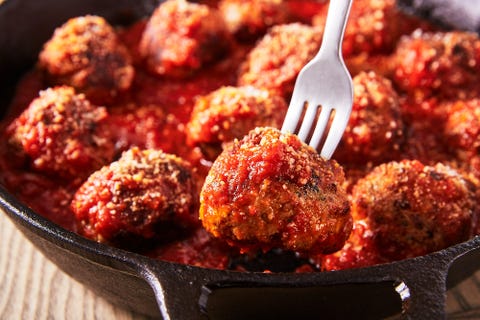 BEST MEAT BALLS EVER
What carnivore doesn't love meatballs?  And during the winter, mixed with your favorite pasta, you create a comfort food beyond belief!  The secret to our meatball recipe is including Italian sausage, which we happen to have on sale this month.  So, don't miss out on our sale on Italian sausage, and don't miss out on making the most delicious meatballs you or your family or friends will ever have.
Buon Appetito
1 c. fresh bread crumbs
1/2 lb.
Italian sausage, casings removed
1
small onion, finely chopped
3 –
cloves garlic, minced
Kosher salt
Freshly ground black pepper
1 c.
freshly grated Parmesan
1/4 c.
freshly chopped parsley
2 tbsp.
extra-virgin olive oil
In a small bowl, stir bread crumbs with milk until evenly combined. Let sit 15 minutes, or while you prep other ingredients.
In a large bowl, use your hands to combine beef, pork, sausage, onion, and garlic. Season with salt and pepper, then gently stir in bread crumb mixture, eggs, Parmesan, and parsley until just combined. Form mixture into 1″ balls.
In a large high-sided skillet over medium heat, heat oil. Working in batches, sear meatballs on all sides to develop a crust. Set meatballs aside, reduce heat to medium-low, and add sauce to skillet. Bring sauce to a simmer then immediately add meatballs back to skillet. Cover and simmer until cooked through, about 8 minutes more.
Now all you have to do is enjoy!